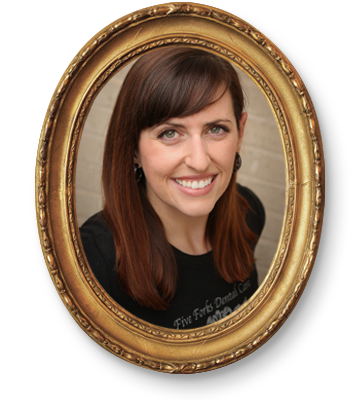 Meet Dr. Julia Vance, DDS
Dr. Julia Vance became fascinated with the field of dentistry after undergoing orthodontic treatment at just 13 years old. Growing up in Upstate New York, she volunteered in local dental offices through high school and undergrad. She developed a love for the field's unique blend of medicine, art, and attention to detail. She attended Rochester Institute of Technology and earned a bachelor's degree in Biomedical Sciences with highest honors. She was fortunate to have been accepted into several dental schools and chose to attend her state school, University at Buffalo School of Dental Medicine. Here, Dr. Vance's passion for dentistry truly flourished. She had the opportunity to participate in several outreach groups, where she provided free dental care in upstate New York, as well as other rural areas of the country through Remote Area Medical. Upon graduating Cum Laude, Dr. Vance was honored to receive the Academy of General Dentistry Award which recognizes a student with exceptional clinical experience and knowledge in all aspects of general dentistry.
Dr. Vance moved to Greenville following her family, having fallen in love with this beautiful and upcoming area. She worked in group practice for 2 years, during which time she had the opportunity to continue her education through courses in Invisalign, endodontics, laser therapy, oral surgery, and restorative dentistry. Dr. Vance met Dr. Hapney through the Dawson Study Club, and jumped at the opportunity to join the practice as her associate. She shares Dr. Hapney's vision for providing beautiful and functional dentistry at the highest standard. She is excited to be a part of the team at Five Forks Dental Care and looks forward to providing compassionate life-long care to her patients. Dr. Vance enjoys all aspects of dentistry, especially endodontics and cosmetic procedures. She is passionate about building relationships with her patients, educating them to make informed decisions about their oral health, and always aspires to provide a comfortable and gentle experience.
She and her husband, Stephen, a native of the area, reside in Simpsonville with their 3 cats, Willow, Meadow, and Oliver. In their free time you can find them at home cooking and gardening, exploring Greenville's newest places or spending time with their church small group. You can also spot them at Clemson games cheering on the Tigers in the fall with their friends and family!
Every experience I have here is always pleasant. The staff is welcoming, patient, and informative. The office feels more like a spa than medical office. Paraffin hand treatment while your teeth are getting polished? YES PLEASE!! Laura mad me feel like it had only been a couple of weeks since we'd seen each other when it had actually been over 6 months. I highly recommend going to visit all these smiling faces to get your best smiling face!
Sheri Davenport

Recently had my teeth cleaned and fillings done at five forks dental care! Great experience, excellent staff and will continue to go here in the future!
Chandler Pennington

Great people. Super nice. Very comfortable setting. Just had work done and with no pain, very little anxiety. Which is a huge plus for me!
Tara Reid

My kids and I love Dr. Hapney and the team. They don't "specialize" in kids but you'd never know it by the way they calm kids and make cleaning easy. My 3 year old freaks out if we even mention haircut but he has no fear or anxiety about getting his teeth cleaned by Dr. Hapney's team.
Adam Bair

Had an amazing experience! The staff I very professional and friendly and the office is very clean and well organized! Made me feel really comfortable and right at home.
Jeffery Poole