Cosmetic, Restorative & Implant Dentistry
We believe that everyone deserves to have a healthy, comfortable and beautiful smile and we want to be your partner in achieving and maintaining it. We understand that sometimes fear, prior bad experiences and finances may have limited your ability to fix or maintain your dental health. Our office offers uncompromising care in a spa like environment that takes patient comfort and relaxation to a new level. Our staff is dedicated to helping patients make positive choices for their dental health. At Five Forks Dental Care, we provide every phase of general dentistry with the same passion, gentle care and dedication to excellence that we bring to our more complex procedures.
Let us help you fall in love with your smile again
If you have been thinking what it would be like to have a smile that naturally and beautifully suits your face and makes you look more youthful, happy and confident – you are in the right place, because that is exactly what we provide for people every day.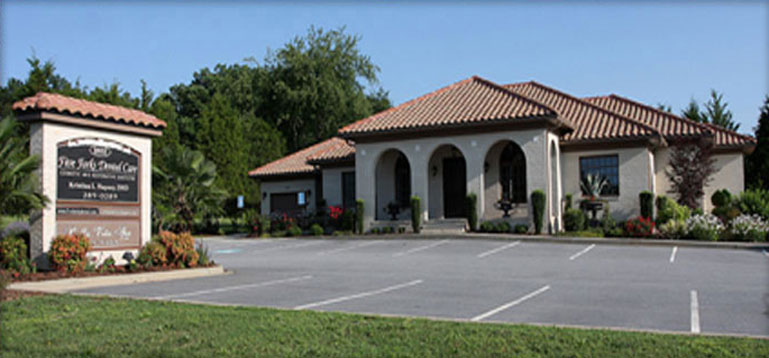 This place is AH-MAZING! For the moment you walk in, they provide a soothing, freindly atmosphere...and all of the staff is welcoming! Who knew you could get a paraffin treatment while getting your teeth cleaned- loved it!! What a great extra perk! Would definitely recommend this business. Hands down 5 stars easily! :)
Amanda McAlpin

Professional, yet comfy! After searching for years for a dentist who would accept my quirky ways of preferences for dental care, Dr. Hapney and her kind and friendly staff have endearded themselves to me by listening to my concerns and creating a detailed plan of action for my dental improvements. Thankful for the calm environment Five Forks Dental provides with their expert care.
Linda Waldschmidt

Five stars!! Excited for my next visit!!
Brody's Gaming videos

i love coming here! everyone is so friendly and explains to me exactly what they are doing to my teeth as they do it. i definitely will be coming here for years to come.
skyler trice

Canít say enough about how great this office is! Best care Iíve ever had!
Susan W.